A problem I have is that I can sometimes find it difficult to concentrate. It happens when I do coursework and it happens even more when I write. I struggle to get into the "zone" and therefore, I don't always produce my best work.
However, over time I've discovered some tips that help me write.
Having a hot drink (preferably coffee!) by my side is a must for me. I feel like I can relax more if I have a drink with me. Whenever I've got a coffee in my Hufflepuff mug, I mean business!

Listening to score music is a really good source of motivation for me. There's score music for practically everything, so you're bound to find a playlist on Spotify to fulfill your needs. Personally, the score for 'The Death Cure' has been helpful with not only writing scenes, but planning them too.
Clear space, clear mind
Everyone may not agree with this quote, but having some form of organisation within your work space can help you to focus more, meaning you can produce your best work!
Whether you're sitting on your sofa, bed or at a desk, organise it in some way to make sure everything is where you need it. There's nothing worse than needing one sheet of paper that just so happens to be in the midst of a huuuuge stack of work! Keep any notebooks or papers you need at hand. Oh, and definitely have a pen by your side. Even if I don't look at it during a writing session, I always keep my notebook with all of the plans for my book in it. You never know when you'll need to scribble something down.
Visual motivation
Spending hours on end creating Pinterest boards could be considered procrastination, but they're great for motivation.
Try collating images and quotes and create a moodboard that you can look at whilst you work. It's pretty to look at and it'll remind you why you started your project in the first place. I love the feeling of excitement when I think about my book and my plans for it!
Here's a top tip:

"Aesthetically pleasing" images get me motivated to write, as well as many other writers out there. If you use Pinterest to create moodboards for your book, when you search for the image you're looking for, add on 'aes' at the end. For example, if you're looking for Star Wars related photos for a moodboard or aesthetic, adding on 'aes' will show you loads of beautiful photos!
Avoiding distractions
Everyone is different. Background noise helps some people concentrate, whereas it can drive others up the wall. Take the time to discover what distracts you. Do you really need to watch that episode of 'Friends' even though you've seen it a hundred times before? Do you really need to eavesdrop on the conversation between those two old ladies sat next to you in Starbucks?
If it helps you write, then sure, go ahead. But if not, switch off your TV or shove some earphones in!
It's an extremely common thing for writers to have their own playlists made up of songs that they know help them write. I'm still trying to put this playlist together, because personally, the majority of music I listen to can help me write. However, if a specific song gets you pumped up and motivated, listen to it on repeat as many times as you need to in order to get your work done!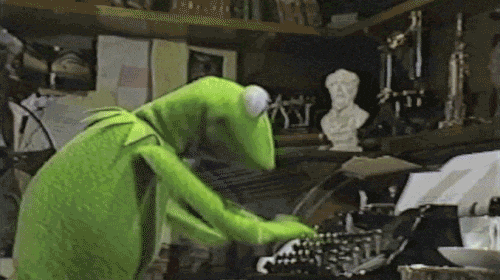 There's no step-by-step guide to produce top quality writing – every human being is different and complex in their own magnificent way. It's all about finding what works for you. But with the tips above and plethora of advice from writers on the web, you'll be one step closer to producing your best writing.
Sharing is caring!